I haven't posted here yet due to the fact that I'm still somewhat new to trading and investing(about 1.5 years now) and the state of my altcoin portfolio has been depressing AF(hence demotivation), but as confident I am of an imminent bullish break of bitcoin price, I decided now is the time to introduce myself. Up until March of last year, I was a pizza delivery guy struggling with addiction. My new addiction since then has been cryptocurrency and learning technical analysis. I found out about bitcoin when it was less than a dollar from a then high school senior that was a buyer of my herbal medicine, but unfortunately my addiction problem was just getting started and I missed the boat up to $1000 mainly due to that.
After finally getting in early last year, I quickly realized I definitely hadn't missed the long-term ride. I didn't stick to bitcoin for while like I should have though… I immediately got caught up in the altcoin hype as LTC broke $4 and ETH broke $12. Ended up missing out on literal millions selling various alts too soon and have had to sell many at losses in the bear market due to my overconfidence in $6k being the bottom most of the year and my reluctance to sell my alts because of it. I made all the classic noob mistakes and have been through both the insane bull market last year and lost over $100,000 of theoretical value in the bear market this year. Late last year, I quit my pizza delivery job and before long I "hired" a couple people to learn cryptocurrency and technical analysis from/with me, with the eventual goal of making all of us all a reliable income using my portfolio. Unfortunately, at the same time I was still stubbornly holding onto my altcoins as they mercilessly plummeted, for a long time thinking "maybe once BTC breaks below 10k, maybe they'll finally go up vs. BTC." As a learning noob, I gave up on stop-losses within a few months. Of course, now I realize just how bad of an idea that was at the time. I had started to be bearish on BTC too early around $12k last year, and at $20k I was extremely bearish on bitcoin itself, I didn't feel like my alts were done yet though. I had to to realize just how correlated they were to bitcoin even though they are traded against bitcoin.
My technical analysis style is quite a bit more in-depth than most people would consider worthwhile, but so far it's worked out quite well as far as making useless predictions(due to lack of capital to work with) in the meantime while I HODL my alts(PIVX finally doing well again!). For example, every time bitcoin neared $6k, I was referring to my analysis on BTCUSDSHORTS and BTCUSDLONGS more than bitcoin itself. Many people in the tradingview chat room have told me, "you can't do TA on contract charts," but I have several public charts that prove otherwise. Lately I really like to find harmonic patterns(like these ones on the S&P 500 from my banner image), as I know they will be very useful to me in the future for trade setups. Anyway…
With every day of excruciating stability (and various altcoins pumping in the meantime), I'm more and more confident that the market bottomed months ago. Everything is slowly falling into place, and it's already broken out of the most significant linear resistance according to my "personalized bitcoin index" chart, which averages the price across 9 exchanges while factoring in the price of USDT/USD(at Kraken) where applicable(Binance, Bitfinex, and Poloniex). It's currently just under the most significant resistance on the log scale chart. This chart produces a clear triple bottom formation, as seen below.
Breaking out of the log-scale resistance should be pretty exciting, as the targets of the falling wedge and the triple bottom act as magnets for future price action.
My most recent YouTube video from October 24th is titled "Bitcoin bears will be more rekt than stock market bulls,"(sorry I forgot to full-screen tradingview that time) where I talk a lot about the stock market and the U.S. Dollar currency index being a risk-off asset that's not as safe as investors bailing from the stock market assume that it is. I believe the main reason bitcoin isn't climbing already is that DXY has been so strong lately, which I attribute only to the stock market decline. I've been watching it closely for months, and it's been bearish patterns after/within bearish patterns most of the time, until everything went to shit in the stock market. My medium-term head and shoulders pattern on DXY was invalidated recently only to form a very likely double top. The long-term inverse correlation between BTC/USD and DXY is strong. When BTC was at it's ATH, DXY was at the neckline of a head and shoulders pattern on the weekly chart… In my very strong opinion, Trump is incompetent, has no business in office, and America is losing respect around the world largely due to him. Also, the chart for the Money Supply M0 since 2008 is absolutely ridiculous. I think of it like a circulating supply of a cryptocurrency, and it reminds me of the situation with bitconnect last year to be frank. Bitcoin remaining stable during the stock market bearishness and DXY's recent bull trap is extremely bullish for bitcoin as far as I'm concerned, especially considering the usual almost minute-by-minute inverse correlation between DXY and BTC/USD that I had been noticing for months.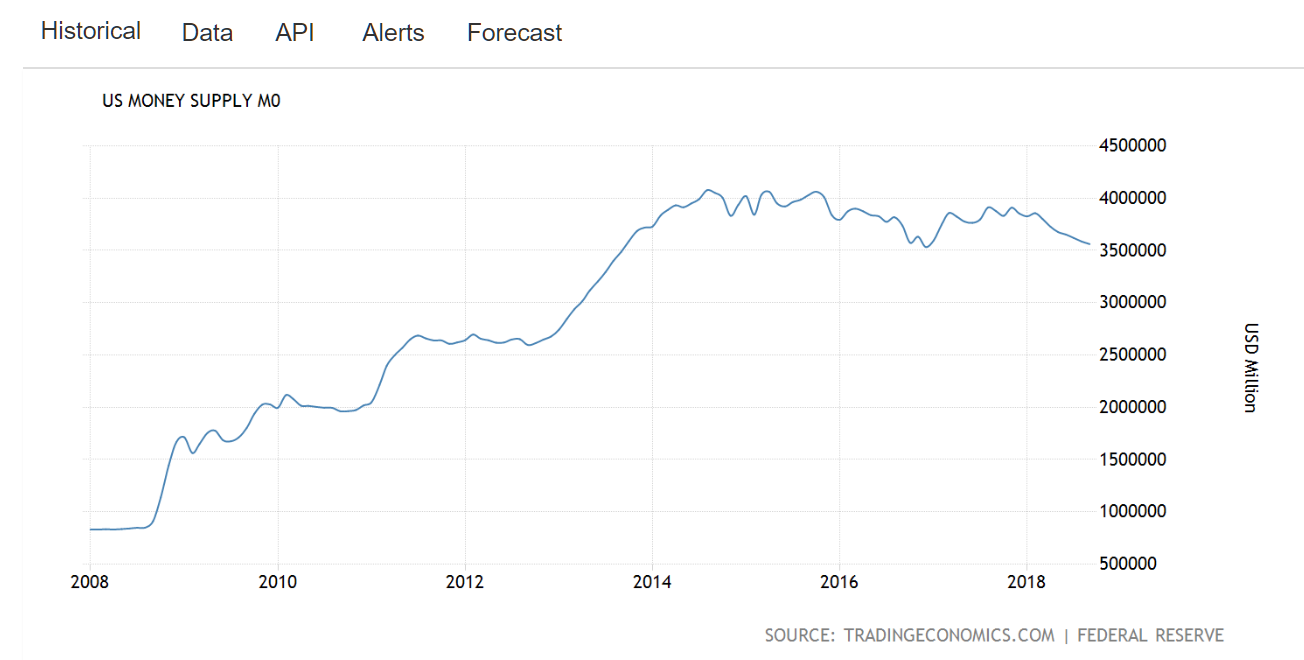 Lastly, there's a couple recent tweets of mine I wanted to point out. One of them involves my ongoing analysis of BTCUSDLONGS and BTCUSDSHORTS. More (very significant) bullish divergence on BTCUSDLONGS, and it just stuck a low at the bottom(point X) of the long-term bullish Gartley I've been talking about. Meanwhile, BTCUSDSHORTS has triple topped(subsequent to the first top at the same level earlier this year) at the PRZ of the bearish butterfly I'd been talking about, and more (also very significant) bearish divergence has formed. Then there's the volume indicator on my personalized bitcoin index chart, which shows a different story from most other bitcoin charts, I assume mainly because USDT/USD was bought up quite a bit yesterday.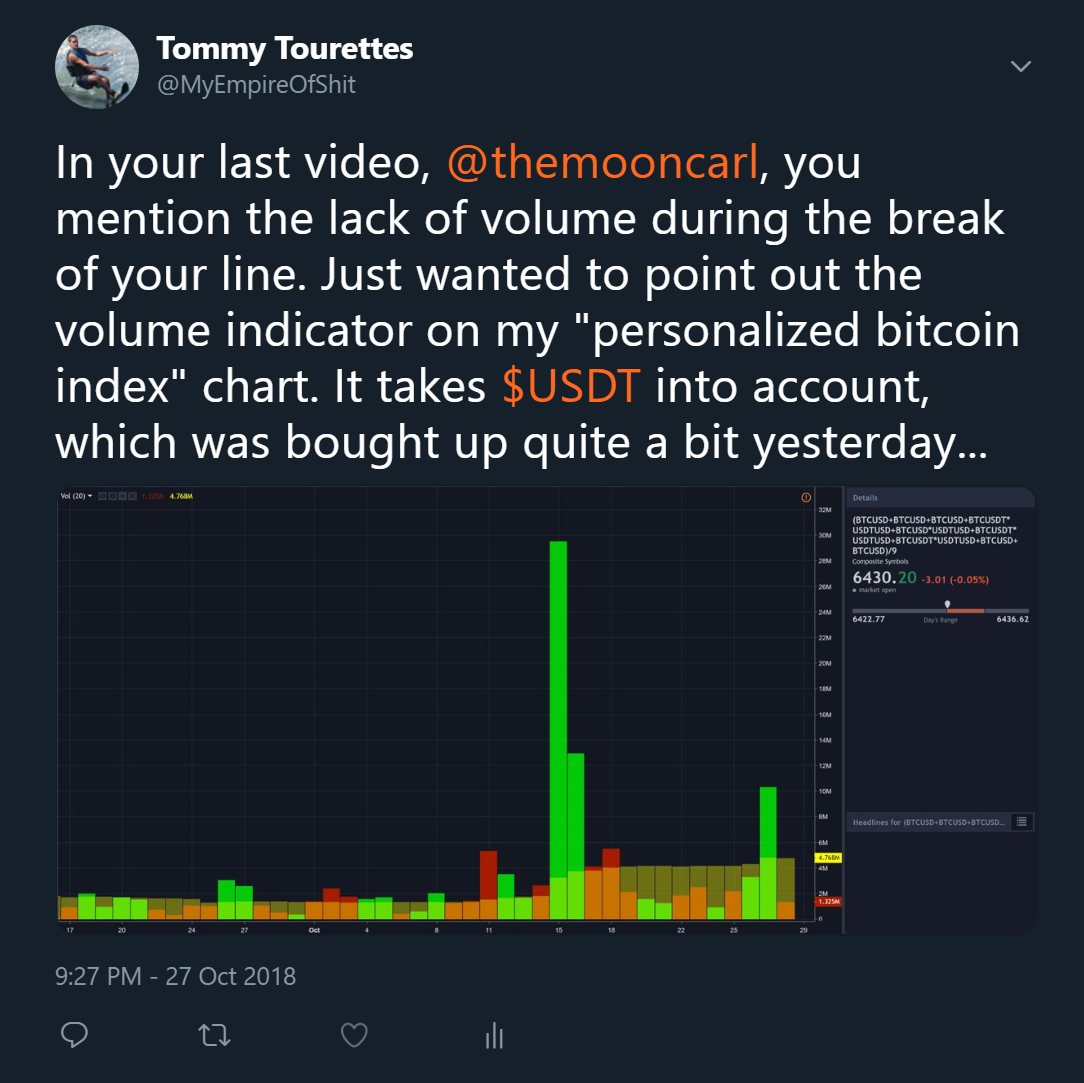 Bullish (AF) until proven bearish…
-Tom
Check my BlockDelta profile for links and details.